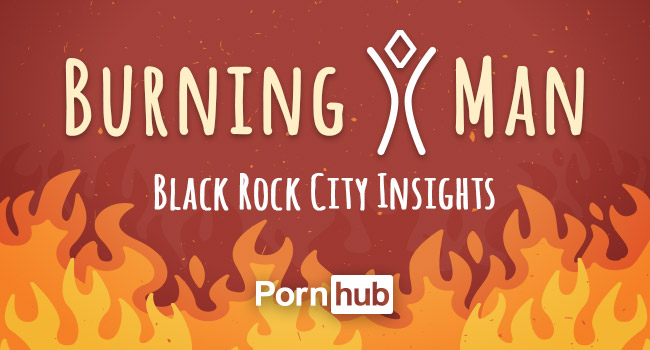 The 31st annual Burning Man festival took place in the Black Rock desert of Nevada from August 27th to September 4th. It is estimated that 70,000 people attended this year's festival, and while there they become part of the temporary metropolis of Black Rock City. At the conclusion of the festival, Inverse asked Pornhub's statisticians to take took a closer look at how traffic to the site was affected, and if any interesting search trends appeared.
Because Black Rock City pops up only once a year, our statisticians gathered and compared data from the nearby counties of Humboldt, Pershing and Washoe which includes the city of Reno. Most visitors to Burning Man would be sharing their cellular signals with these areas, so we can better see how the influx of visitors affects the usual daily traffic in the area.
On day one, traffic in the region increased by +6.2%, reaching a high of +9% on August 30th. Traffic dropped -3% below average on September 2nd to 3rd, but then increased +5.5% above average on the final day. With the festival's distractions (and sixties style free-love) coming to an end, perhaps the need for Pornhub had returned.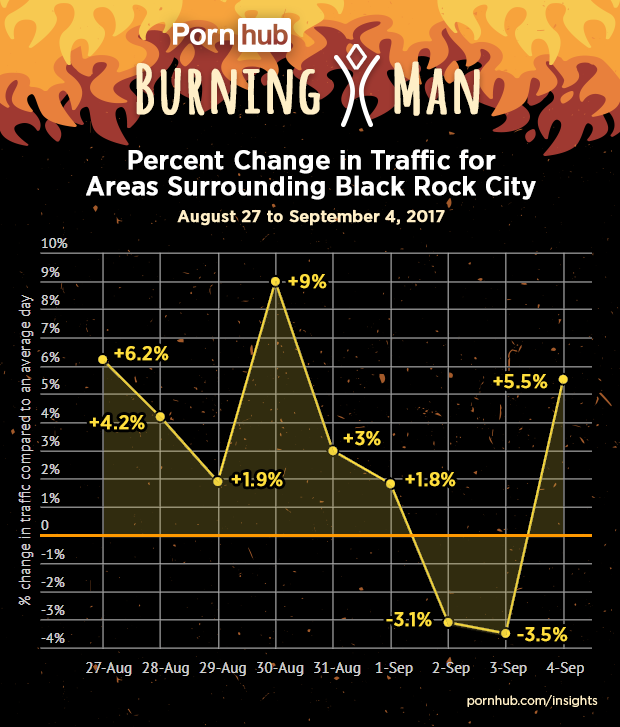 According to Burning Man's own annual census data, about 35% of visitors qualify as millennials under the age of 35. Our statisticians found that millennial traffic from visitors under the age of 35 was consistently higher during the whole festival, but the more drastic day-to-day fluctuations came from visitors over 35 years old. While millennial traffic changes peaked at +6.5% on day 1 and day 4, traffic from those over 35 increased by +10% on day 4. The over 35 age group also accounted for the overall traffic drop we saw on September 2 and 3.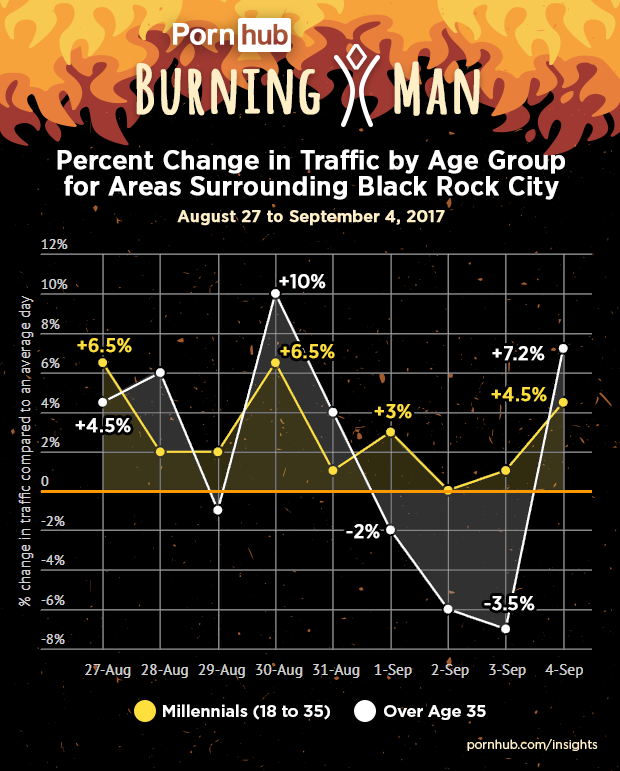 Burning Man's annual census shows that around 57% of visitors are male, 41% female (and 2% other or neither). Pornhub's traffic from the region is around 23% female (just slightly less than the U.S. average of 25%). During Burning Man, we did see larger traffic fluctuations for women, with a +7.2% increase on Day 3 when traffic from men was relatively flat. A -3.7% decrease in female traffic on August 31st was followed by a huge +10.3% increase on September 2nd and +7.8% September 3rd. During the same time period, traffic from men was more than -5% below average. On the last day of the festival, it seems that women were responsive for the big increase in traffic we recorded, with their visits being up nearly +15% while men were only 1% above average for the area on that day.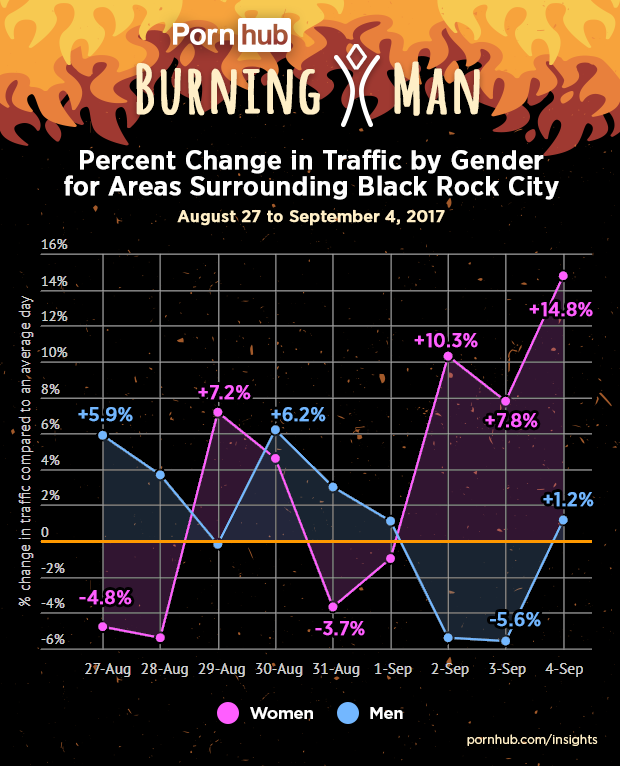 Finally, our statisticians looked at what type of searches were more popular during the festival. We focused our analysis on the same area surrounding Black Rock City, so we could see what festival goers were really interested in (when compared to searches by the area's normal residents before the festival). Many of the results were similar to those we found in our Coachella Festival Insights such as a +833% increase in searches for "festival public sex" and 675% for "sex festival".
Searches related to Burning Man were naturally up, including a +389% increase for "burning man orgy", and 248% for "burning man nude". Scanning through the lengthy list, we also picked up increased searches for terms like "sex in tent", "hippie", "hitchhiker" and "camping orgy".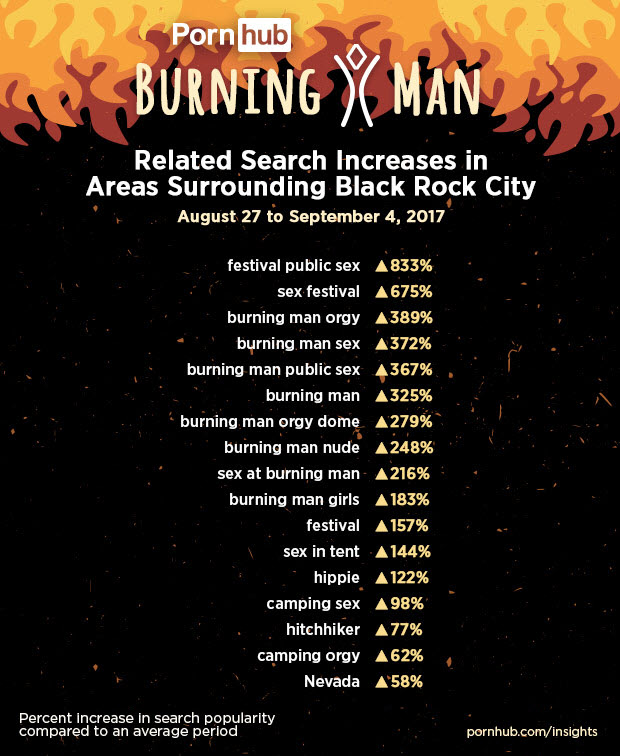 We hope you enjoyed this edition of Pornhub Insights. Please check out our other festival Insights including Coachella, Italy's San Remo, Mardi Gras vs Carnivale and Octoberfest.
___________________
Some graphical resources courtesy of freepik.com
The post Burning Man Festival Insights appeared first on Pornhub Insights.
Source: PornHub Insigits