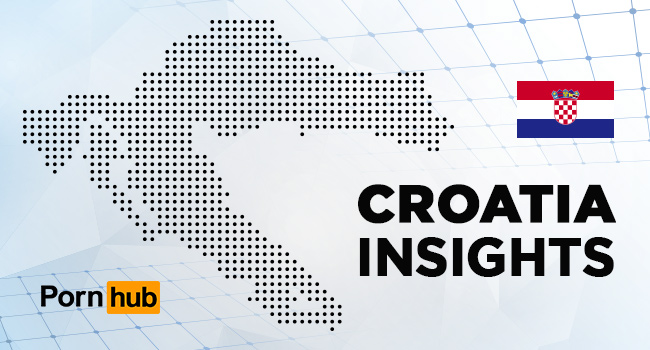 The Insights team was contacted by 24sata.hr to see how their fellow Croatians enjoying using Pornhub. Croatia ranks 53rd for traffic to Pornhub, which is not a bad feat considering that it ranks 129th worldwide for population. More Croatians tend to visit Pornhub on Monday than any other day of the week, while Friday is the lowest traffic day as it is around most of the world.
The most popular search term in Croatia is "jebange" (the act of having sex), followed by MILF and the popular game "Fortnite". In most countries we find that people tend to search more for their own people than any other search — for example "Greek" in Greece and  "Portugal" in Portugal — but in Croatia "hrvatska" only ranks 9th in terms of search popularity.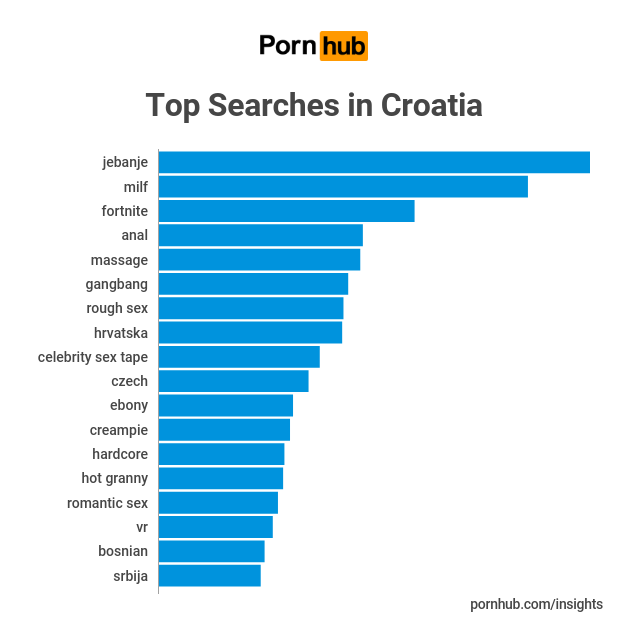 The most viewed category of video in Croatia is "Mature" followed by "MILF" and "Lesbian".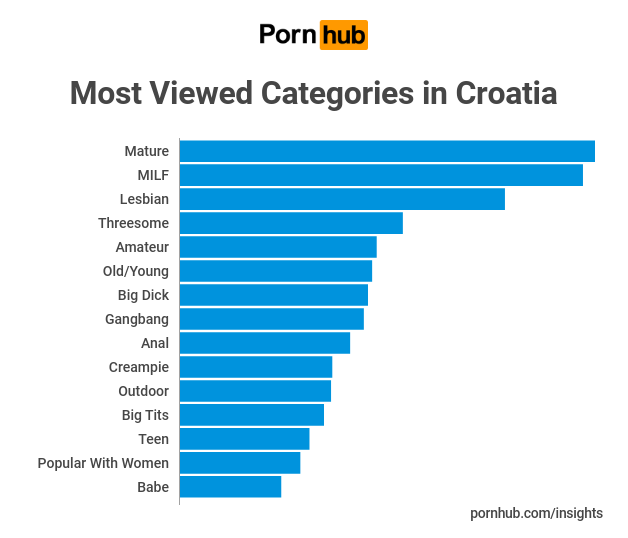 Our statisticians found that "Mature" is proportionately 100% more popular in Croatia when compared to the rest of the world, "Czech" videos are 88% more popular, and the "Old/Young" Category is 75% more popular.
The most searched for pornstar in Croatia is Celestia Vega, followed by Alyssia Kent and Alexis Texas.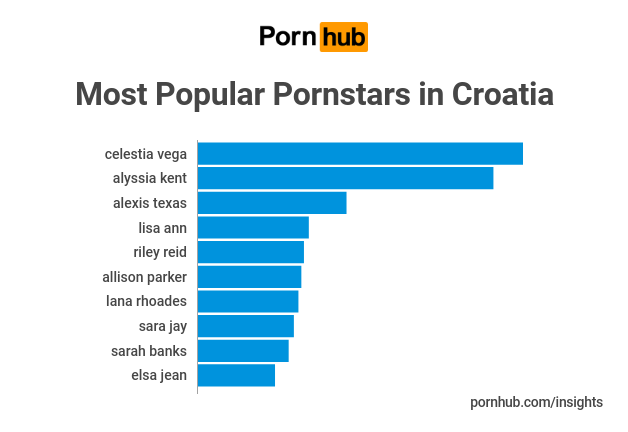 Croatia has one of the highest proportions of female visitors we've seen at 35%, compared to a worldwide average of just 26%. Croatia also has one of the smallest proportions of 18-24 year olds visiting Pornhub at only 16% (compared to 29% worldwide). That means the 25 to 34 age group is much larger in Croatia than elsewhere at 37%.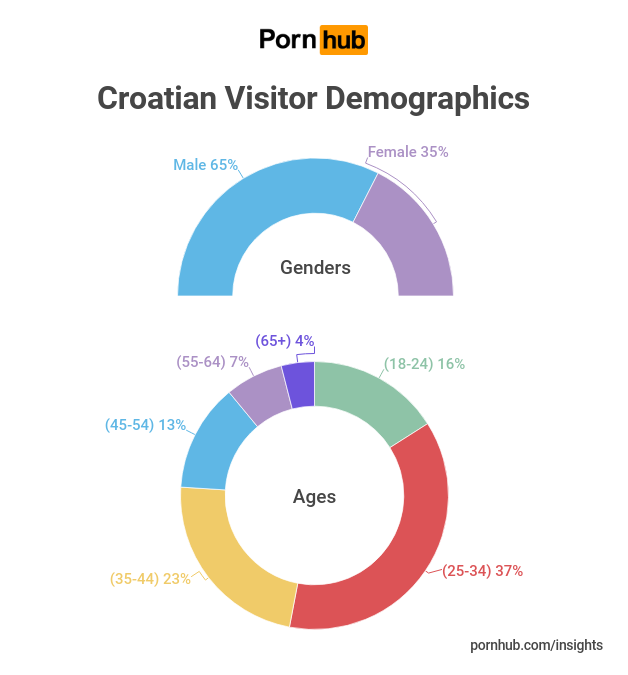 Croatians use less mobile devices when visiting Pornhub at only 70% compared to the worldwide average of 76%. That means desktop usage remains much higher.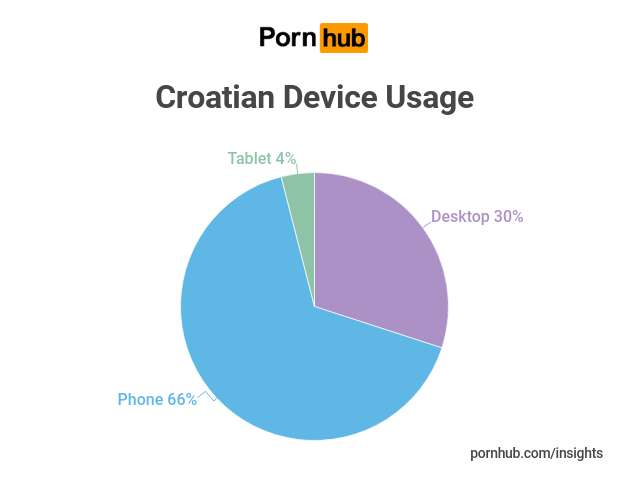 The average visitor from Croatia will spend 10 minutes and 13 seconds on Pornhub, slightly longer than the worldwide average of 9 minutes 59 seconds. Some parts of Croatia get the job done a lot quicker like Lika-Senj, where visitors come and go 105 seconds faster, while in Sibenik-Knin, visitors take their time with an additional 48 seconds.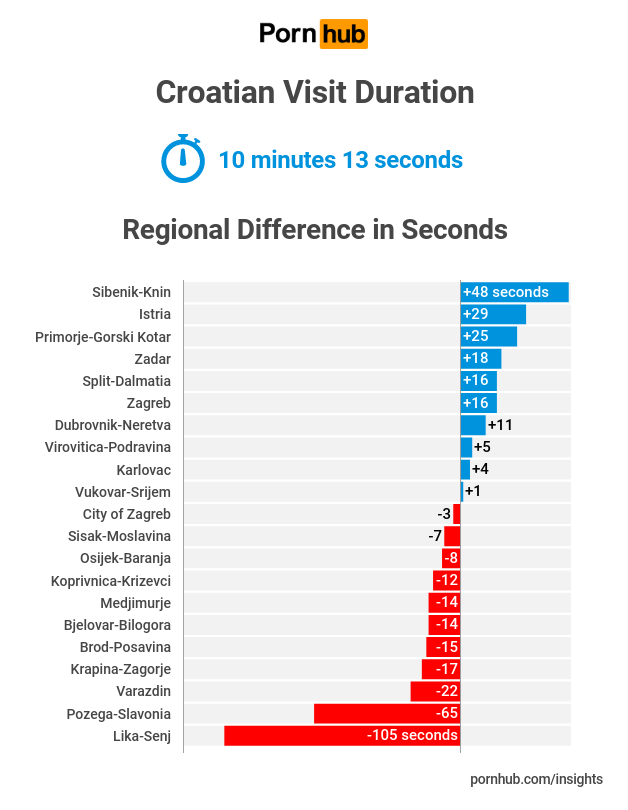 To see how Croatia compares to other countries, check out our complete 2017 Year in Review!
The post Croatia Insights appeared first on Pornhub Insights.
Source: PornHub Insigits