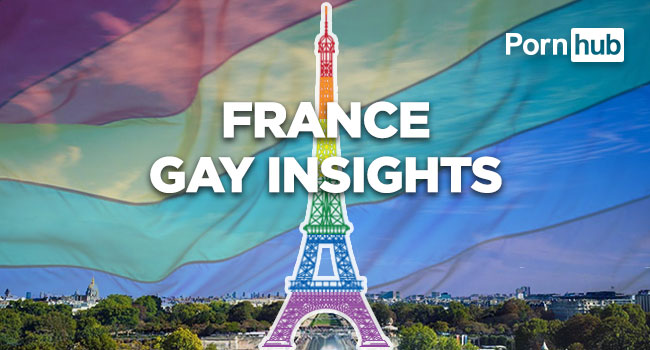 Pornhub Insights recently took a look at gay porn viewership in the United States, and in the United Kingdom. In this edition of Insights, we're joined by the folks at Tetu, France's oldest gay magazine, to see how gay porn viewership compares in their country. 5.7% of all pageviews from France are for Pornhub's gay content, which is slightly less than the world average of 5.8%, but much less than the 6.4% we found in the United States.
The most popular gay search terms share some similarities with the France's top straight searches, in that people love to look at porn featuring people from their own country. The most popular gay male search is "french" followed by "francais". In third and forth spot are "french arab" and "arab", indicating an interest in multicultural male content.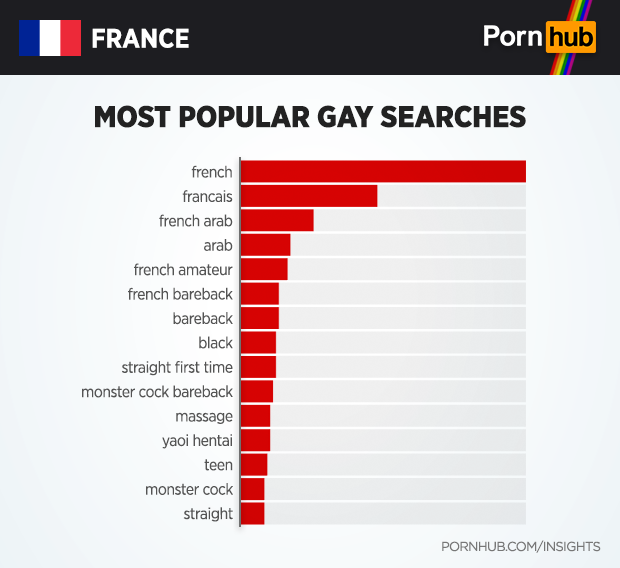 Categories can give a better indication of the genres of porn which are most popular, as opposed to search terms which are more specific and/or localized. In France, Bareback is the most popular gay male category, followed by Daddy and Straight Guys.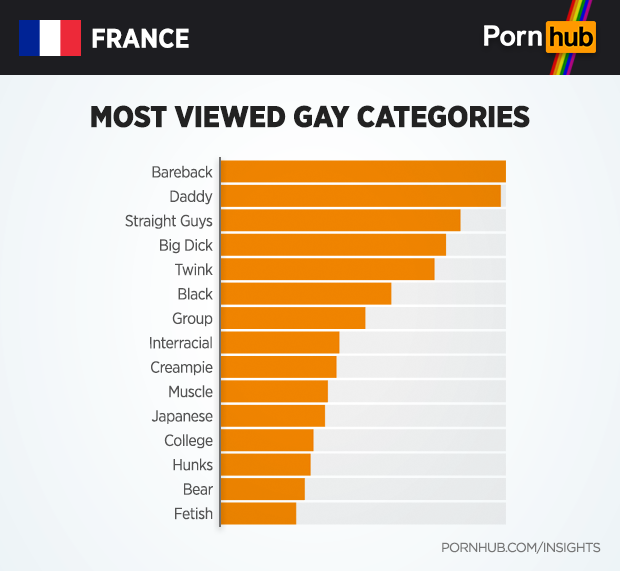 When compared to the rest of the world, we can see that the Bareback category is in fact 36% more popular in France, along with a 35% increase in the popularity of both Daddy and Straight Guys. People in France are also 30% more interested in Big Dick gay porn.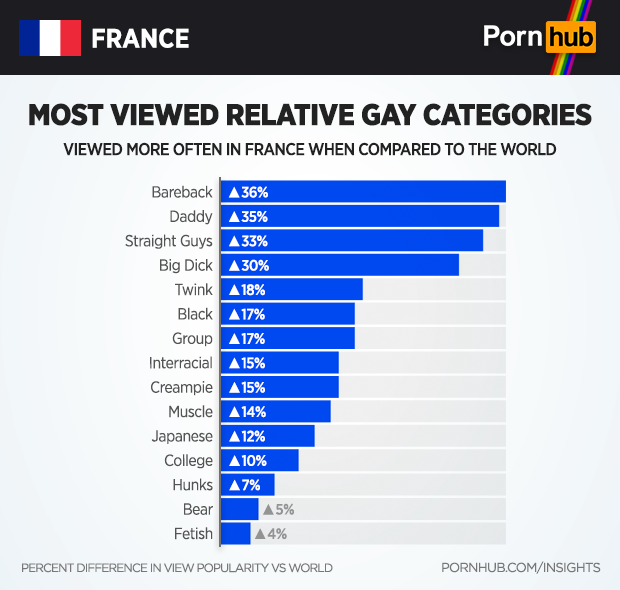 Certain categories are relatively more popular in different regions of France, when compared to the rest of the country. In Ile-de-France, the Asian gay category is 17% more popular. Solo Male is 57% more popular in Auvergne-Rhone-Alpes, and Blowjob is up 74% in Hauts-de-France. The Reality category is relatively more popular in Brittany (+66%), Occitanie (+38%) and Provence-Alpes-Cote d'Azur (+33%).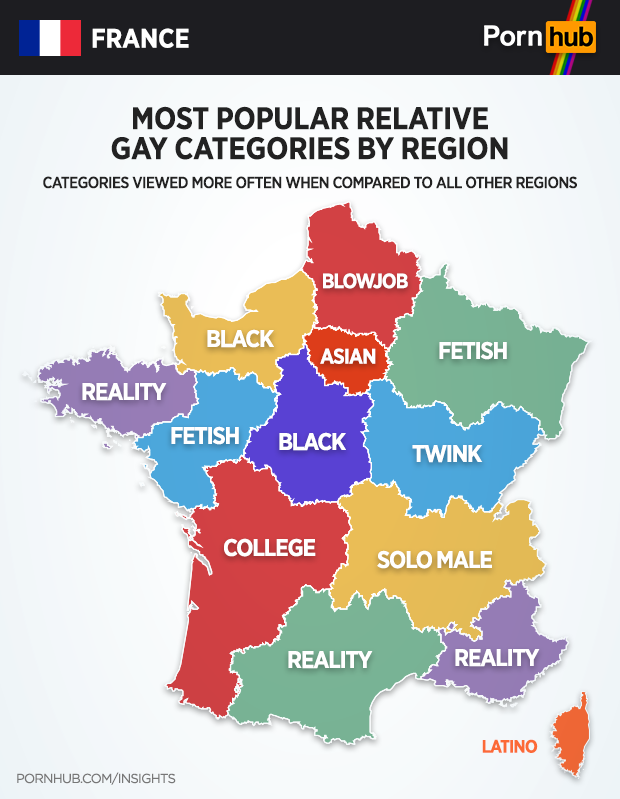 Currently the most searched for pornstar by Pornhub's gay visitors is Chris Bieber — a Belgian performer who got his start in adult entertainment performing as a Justin Bieber look-alike. He gained notoriety when he was photographed with Justin Bieber, and currently has 150,000 Twitter followers. The second most searched pornstar is Rocco Siffredi, who performs in straight porn videos.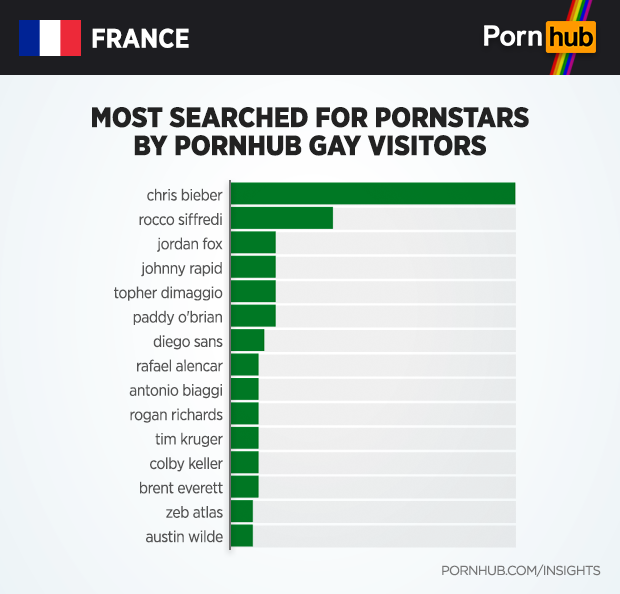 The proportion of gay pageviews in France increases by age group. While the average pageviews for gay content is 5.7% in France, it's in the 10% range for all age groups over 45. That may indicate that there are more gay men in those older age groups who are comfortable viewing gay porn than straight men of the same age. Millennials between the ages of 18-34 are 63% of France's non-gay visitors, but only 52% of gay visitors.
Interestingly, while women make up 26% of Pornhub's visitors from France, they account for 32% of visitors viewing gay male porn. We found similar results elsewhere in the world in our Girls Who Like Boys Insights post.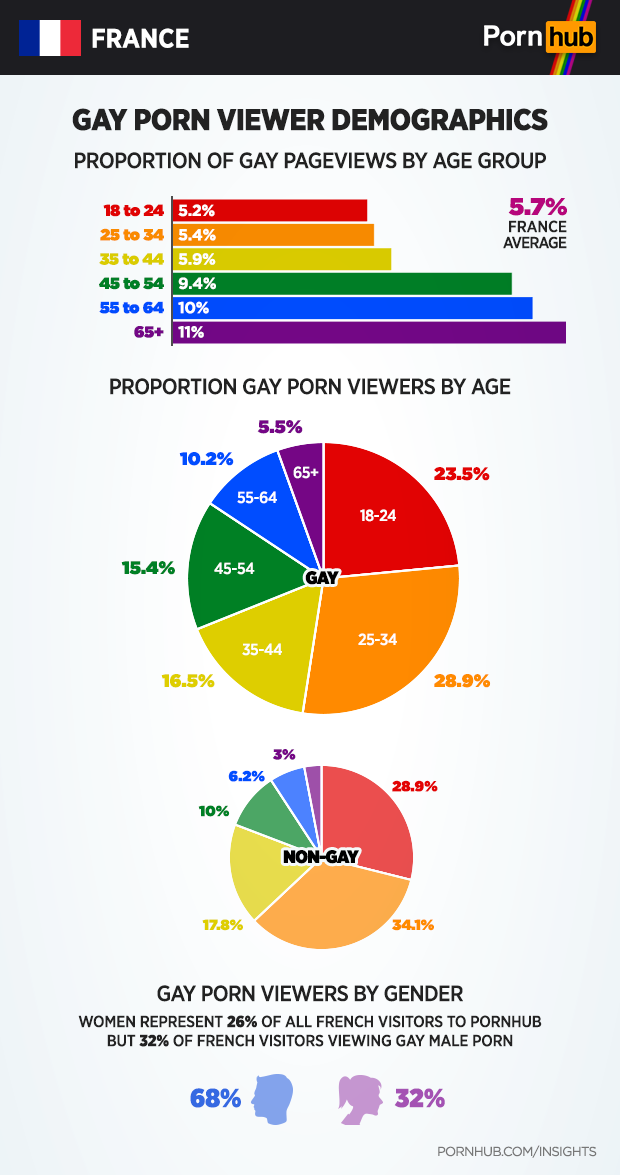 When compared to visitors over the age of 35, French visitors between the ages of 18-34 are 283% more likely to view the gay College category, and 256% more into gay Hunks. When compared to younger viewers, French visitors over the age of 35 are 64% more interested in Twink videos, and 61% more into Bareback.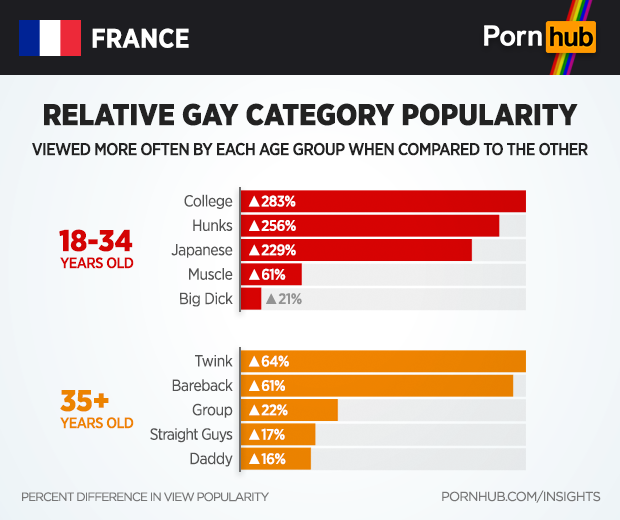 We hope you enjoyed this edition of Pornhub Insights. As always, let us know your thoughts in the comments section below!
The post Gay Porn in France appeared first on Pornhub Insights.
Source: PornHub Insigits