On October 16, Hurricane Ophelia battered Ireland with it's biggest storm on record. In preparation, the whole country was closed down including government buildings, transportation and private businesses. With so many people stranded at home, our friends over at the Irish Mirror asked how this affected Pornhub and in turn our statisticians found a massive increase in Ireland's Pornhub traffic compared to a normal day. Beginning in the early morning, traffic was up 48% above normal levels at 02:00. We then found from 08:00 until 16:00 that traffic was as much as 53% above average. After a full day spent on Pornhub, Ireland's evening traffic returned somewhat to normal, fluctuating plus or minus 10% from average.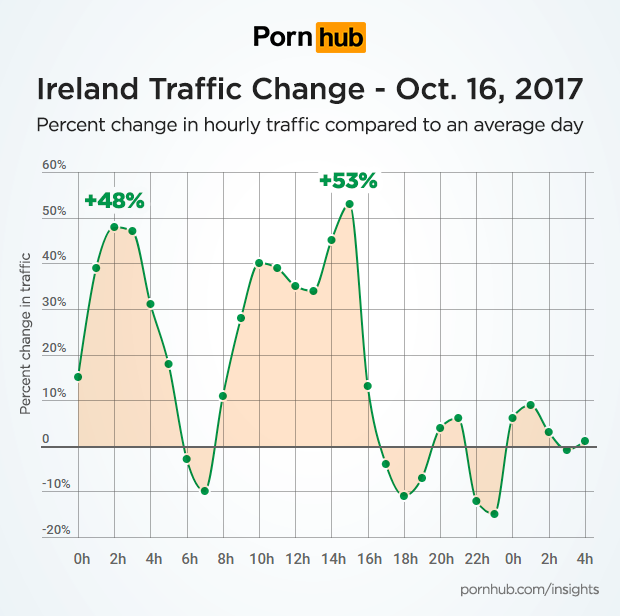 We also found that October 16th traffic changes varied between Irish men and women. At 02:00, female traffic was up 53% compared to their average level, but at 03:00 Irish men peaked at 68% above average. At 07:00 in the morning, Irish women were on Pornhub 27% less than usual, while traffic from men was close to average. Later in the day, it seems that more of the traffic increase came from men, with their traffic being 61% above average at 15:00, and women up 34% during the same period.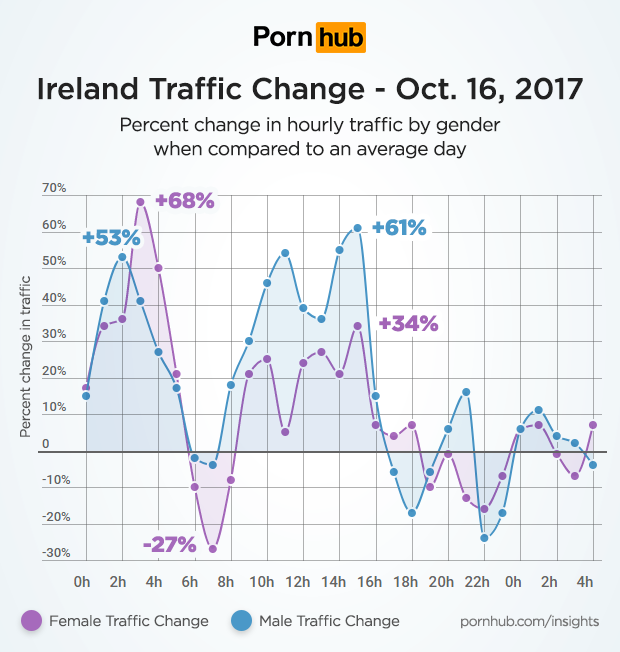 Similar October 16th differences were found depending on the age of Irish visitors. Irish millennials between the ages of 18-34 saw an increase of 50% at 02:00, while those over 35 years of age increased by 66% above their usual levels at 04:00. Millennial traffic was down 15% at 07:00, but all age groups seem to have agreed that 15:00 was an optimum time for a Pornhub break with a 60% increase above daily levels. At 18:00 traffic from Irish visitors over the age of 35 was down 32% compared to their average, but remained relatively normal for the millennial group.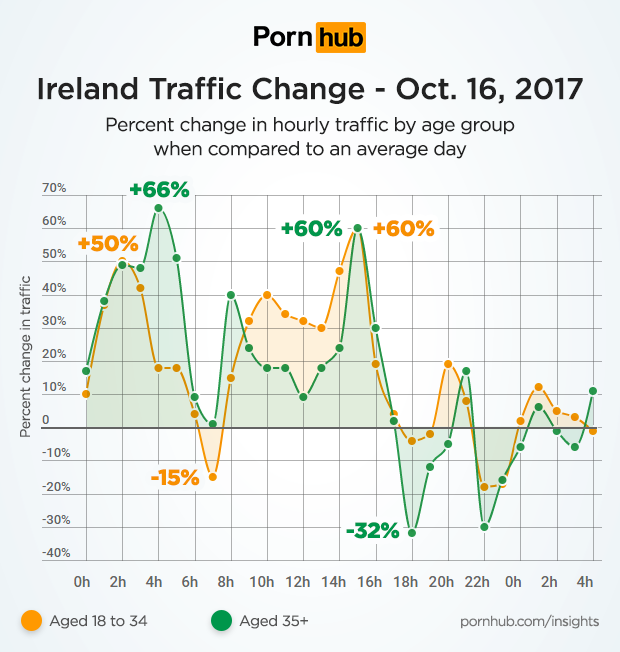 The post Ireland Traffic During Hurricane Ophelia appeared first on Pornhub Insights.
Source: PornHub Insigits