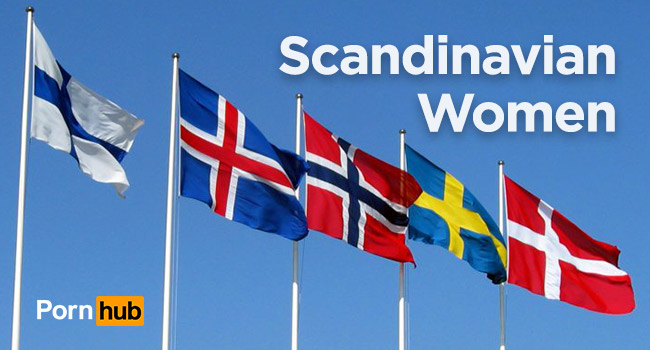 Pornhub Insights has spent quite a bit of time studying the countries of Scandinavia, including Denmark, Sweden and Norway. In today's report, we're joined by Sweden's Nyheter24 to find out how women in Scandinavia enjoy watching Pornhub, and how they differ from men and other women.
Sweden ranks highest for female traffic at 16th worldwide, followed by Norway at 27, Denmark at 28, Finland at 38 and Iceland at 108. On average, Scandinavian women spend 11 minutes and 14 seconds when they visit Pornhub, which is 36 seconds longer than their male counterparts.
Like elsewhere in the world, Scandinavian women search more often for "lesbian" porn, followed by "extreme gangbang". Searches for "Swedish" come in 3rd, and "Danish" also makes the list of top searches across the region.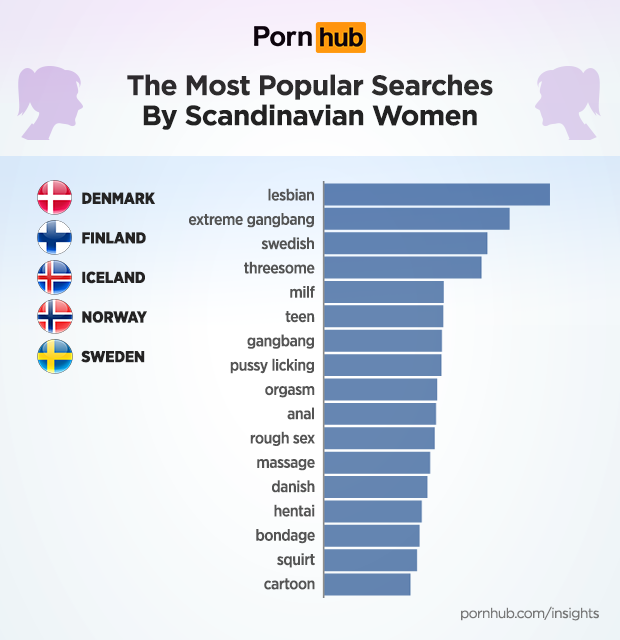 Compared to women elsewhere in the world, Scandinavian women proportionately view the "Old/Young" category 99% more often, followed by "Bondage" which is 50% more popular and "Amateur" 40% more popular.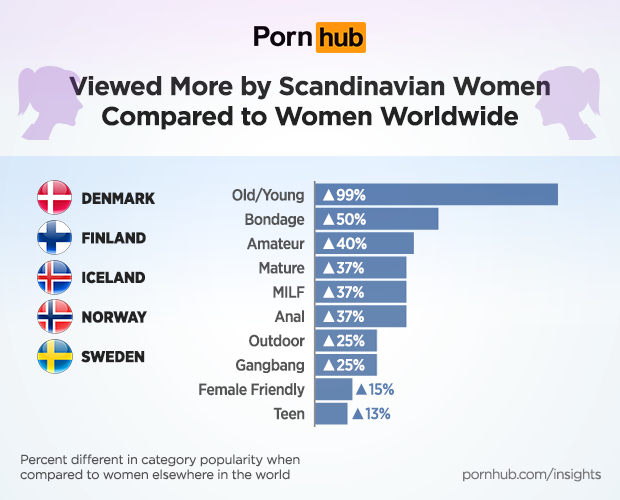 In each country, women tend to search more often for videos featuring their fellow citizens. "Danish", "Icelandic" and "Swedish" rank first in their respective countries, while "Finnish" and "Norwegian" take a back-seat to "lesbian" in those countries.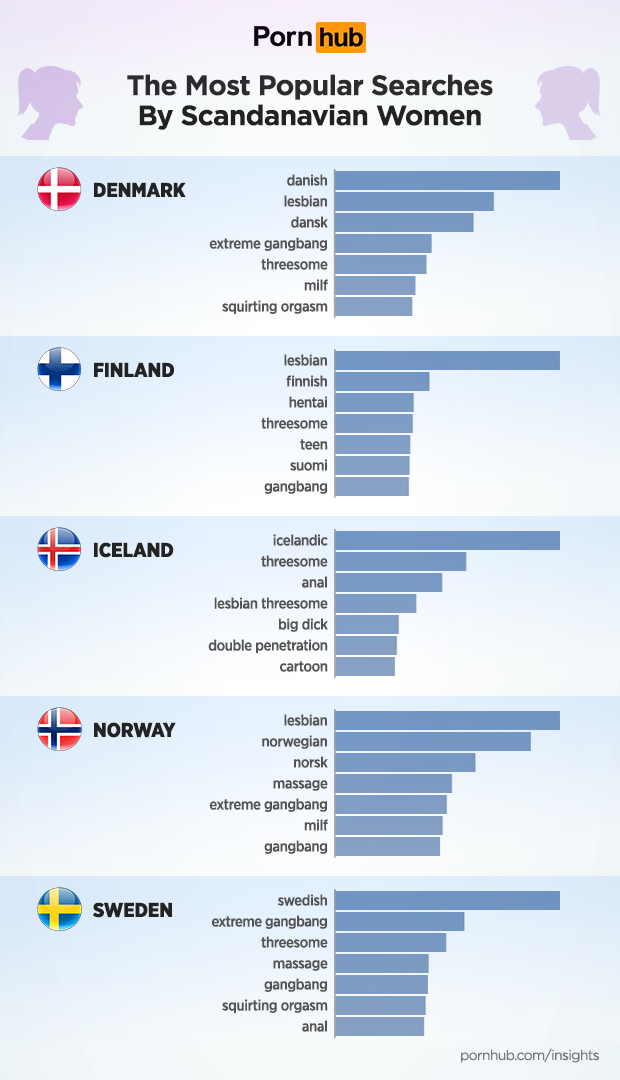 When compared to women elsewhere in Scandinavia, women in Denmark are 33% more likely to view the "German" cartegory, and 17% more into "BBW". In Finland, the "Masturbation" category is 34% more popular with women, and "Hentai" 23% more popular.
In Iceland, women view the "Czech" category 109% more often, and "Party" 62% more. Norway finds transgender videos in the "Shemale" category 15% more appealing, as well as 13% more for "Bisexual". In Sweden, women are 20% more likely to view the "Arab" category.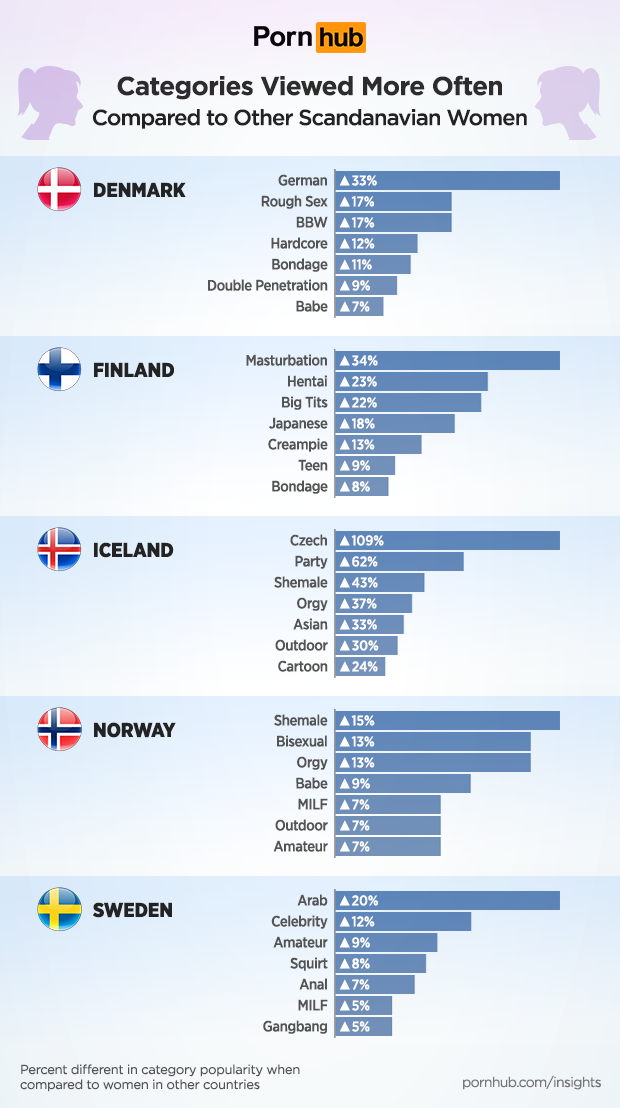 Compared to men in their respective countries, most Scandinavia women are around 300% more likely to view the "Pussy Licking" category, with the exception of Icelandic women. In most countries, the "Female Friendly" category is also significantly more popular with women.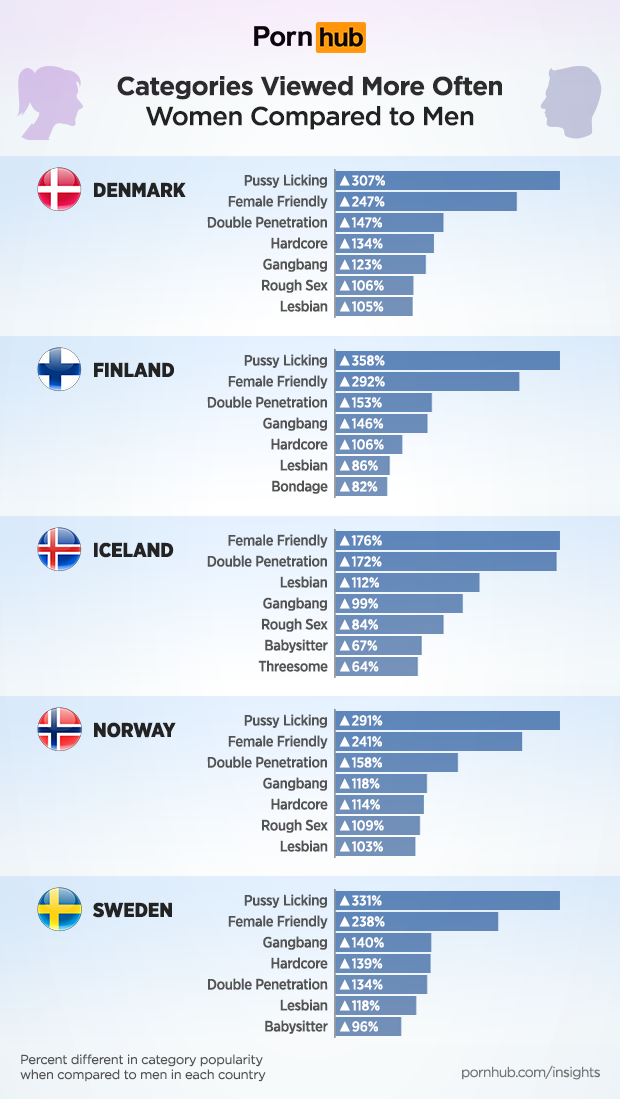 27% of Pornhub's visitors from Sweden, Norway and Iceland are women — matching the worldwide average. In Finland, 26% are female, and Denmark 25%.
The age of female visitors differs greatly between Scandinavian countries. Denmark's female porn viewers are significantly older, with only 47% being Millennials under the age of 35. Compare that to Sweden, where 62% of female visitors are under 35. The 18-24 age group is by far the largest in Finland at 37%. Norway has the most 25-34 year olds at 32%.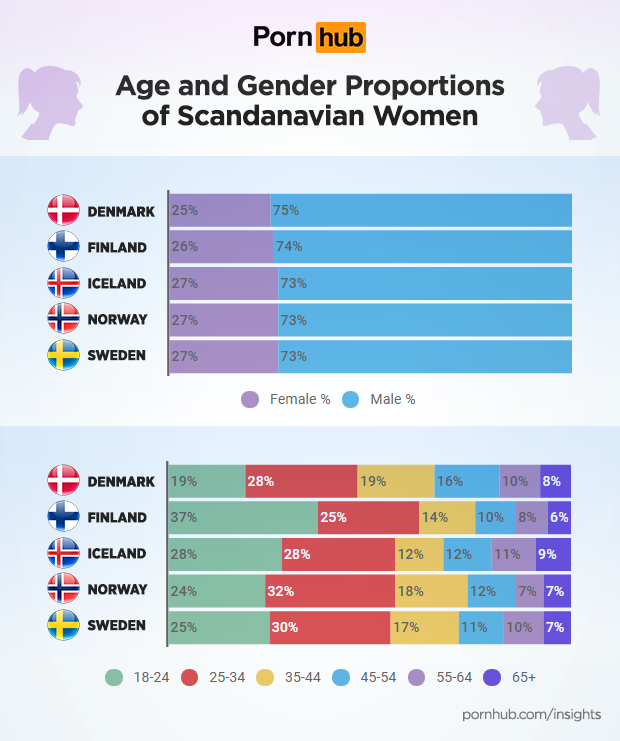 We hope you enjoyed this edition of Pornhub Insights. Be sure to check out our other female focused posts including What Irish Women Want, Women Searching for Women, Colombian Women, Women and Tech and Women's Favorite Searches worldwide.
The post Scandinavian Women Insights appeared first on Pornhub Insights.
Source: PornHub Insigits