Adult Affiliate Marketing Is Easy Money, Maybe!?!
Affiliate Marketing is an excellent way to earn passive income. All you need is a computer and internet access to get started. Shit, if you are reading this then you've already paid the cost of entry. Just in case you don't know what Affiliate Marketing is, here's a brief summation. Online businesses, such as Amazon and Walmart, will pay you a small commission on any purchase made by a customer you provide. When you sign up for an affiliate program they provide you with links. If a potential customer uses that link (e.g. banner) to get to the retailers site and makes a purchase you get a portion. That's affiliate marketing in a nutshell. In Part 1, I mentioned that porn business is legitmate business. Just like your major retailers, porn businesses have affiliate programs that work the same way. You send a potential customer to a porn site, they spend money and you get paid. With so much free porn on the internet the trick is to find people willing to pay for porn. Who's Paying For Porn? The be honest, there is no way for you and I, sitting in front of a computer, to determine who is going to pay for adult video, a live cam show or buy a sex toy. That's impossible. What I will say is this: 1. People pay for what they want, and 2. The existence of a genre/niche is sufficient proof that somebody wants it. (If dudes didn't like fucking fat chicks you wouldn't have BBW porn.) I also know that the quantity of free porn on the internet is but a small fraction of the porn available at a cost. If you don't believe me I challenge you to discover this fact for yourself. Go to all the major tube sites (for example PornHub, XVideos, Xhamster, and several others) and choose any category. A prolonged comparison of these sites for any given category will generally produce the same content. Of course there will be exclusives, but generally speaking you will run into the same clips. A viewer who is no longer satisfied by the repetitive free selection will become a paying customer. Unfortunately, there is no way to tell when someone will be saturated by the free shit. Most people are multi-niche consumers and will just move to another niche before paying to see more.
Earning Adult Affiliate Income Takes Time and Persistence.
Despite the wide spread use of the Internet, most people do not know how it works. People treat the internet as a resource to find what they want. They treat the internet as a tool for consumption, not a tool for marketing. This niavete has fostered the belief that if you build a website, post in a blog or social media, the flood gates will open and the world will be at our feet waiting to buy what you're pitching. Sorry, but it does not work like that. The general rule online should be, "if you create it nobody will see it!"
To make money as an affiliate marketer you must lead people to the program you are promoting. Keep in mind that most people aren't looking to spend money. They are viewing free porn. Once you get them to click the link or banner they must convert from user to buyer. It's not as easy as it sounds. I read in a popular non-adult blog that the average click through rate (CTR) for a Google AdSense account was about 2%. Imagine that instead of a Google Ad we are talking about your affiliate link. (Personally, I believe the click through rate is much lower for porn.) Let's assume your affiliate program pays 50% revenue share and the monthly membership fee is $30. You would earn $15 per paying customer. If you wanted to earn $1000 per month you need to have 67 customers.
You are probably thinking to obtain 67 customers you need to send 3,333 people through your affiliate link. Well, you are wrong! Although 67 is 2% of 3,333, the CTR is only for clicks through your affiliate link. It has nothing to do with the conversion of the people to paying customers. You could send 3,333 or more and nobody decides to sign-up!
Therein lies the great dilemma of affiliate marketing! Once you get them to the promise land how many will convert. Nobody can tell you that. Conversion, like any purchase, is extremely subjective. The good news is that clicking your affiliate link is a sure sign of interest in the product. Therefore, you can expect the conversion rate to be quite higher than the 2% CTR.
Let's imagine that the conversion rate is 25%. To make $1000 dollars per month you would need 13,400 visitors to your website. Of those visitors 2% or 268 have to click your affiliate link. Once they click trough 25%, or 67, must sign-up.
At this point you should be asking where the fuck am I going to get 13,400 monthly visitors to my website. Most people don't have the social media presence or marketing savvy to generate that level of traffic. The source of quality traffic is a subject of never ending discussion. I won't dive into it in this post. Maybe I will drop my 2 cents on the topic in the future. I will confirm that it is doable! I can assure you that you will not create a website on a Monday and generate 13,400 visitors by Wednesday. The Internet does not work like that! You must build a presence and doing such takes time.
There is an incredible amount of online content that deals with how to generate traffic. I don't recommend paying for traffic until you have a great understanding of how to generate leads on your own.
I hope you enjoyed this post. It's not my typical rant about big booty chicks, but I enjoyed thinking about the topic. Let me know what you think. Leave a Comment below!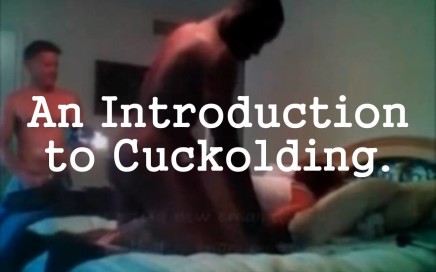 During my daily peruse of pornographic material I came across a video by CuckoldArchive.com which contained "An Introduction" to cuckolding. The video was actually a compilation of slut wives getting fucked by their respective bulls. Embedded in the video were text messages detailing the cuckold experience. The text provided ground rules for cuckolding. The following […]